Last year our friend Liz gave us a good idea: a website about our region, where you can find everything there is to do in the region. Like an entertainment agenda with cultural, touristic, sporting events and attractions. And we had to make it because Dona Rolha is always up to date about the latest events and Nuno can build it.
from idea to plan
She did have a point there.
Last winter we started right away: we gathered information, designed the concept, chose a name, Vailá, thought about the design, examined the technical specifications and got a virus…
Covid-19 made everything superfluous: all festivities were cancelled, attractions closed their doors and probably no tourists would come this year.
Fortunately, I then saw an announcement from Dolmen, an organisation to promote the economic activity in the region Douro Verde. They organised a competition for the best entrepreneurial activities in the region. 7 categories, each with three winners, which were going to be rewarded with a cash prize.
"We're gonna entry our plan!" For the category 'ideas for the future' I wrote an extensive business plan for Vailá, with all the desired specifications.
It forced us to consider the site and the business model more, which was good.
Vailá: the plan
www.vaila.pt will be the centre of our business. This is the reliable, independent guide to the Douro Verde, where you can find all public festivals, events, swimming locations, places of interest etc. An up-to-date overview by date, together with all visitor information. Commercial parties can advertise on www.vaila.pt. And in time we will expand the offer with workshops and excursions organized by us.
I translated it into Portuguese, our friend Cátia edited the text and I sent it in a day before the deadline. The next day I received a reaction: the deadline was postponed!
And while a Dutch minister and the prime-minister tarnished the image of the Dutch, the deadline was postponed again. Apparently they had trouble finding (more) suitable candidates.
Meanwhile we continued to work with cement and concrete blocks and saw the measures were slowly being loosened. The museums reopened, the President called on people to go on holiday in their own country this year and specifically mentioned our municipality of Cinfães. Our thoughts focused on Vailá again, because there is a good chance that next year everything can go on again. But I had already given up the chance of a possible price. It seemed as if Dolmen had completely disappeared from the face of the earth.
a festive ceremony
But to our surprise, last week we suddenly received an email, telling us we were selected as one of the three winners of our category. Could one of us attend the festive ceremony on Friday to receive the prize?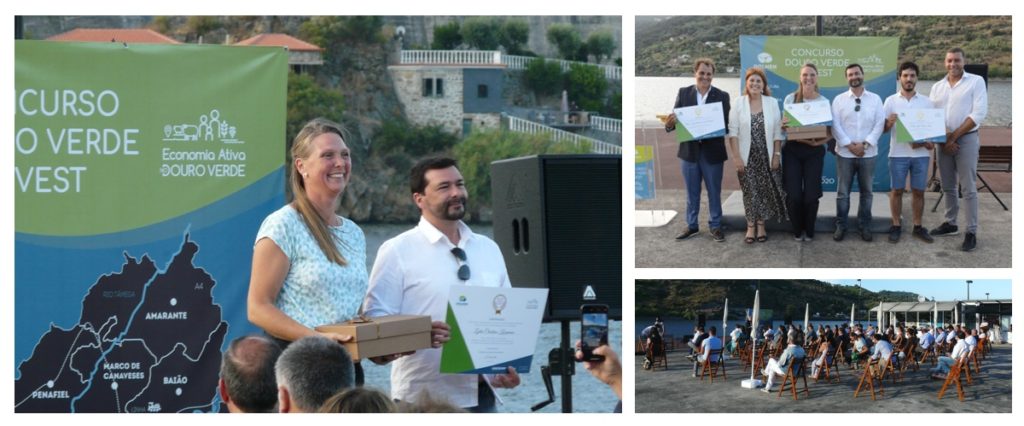 Of course! And there I was, as the proud winner of the third prize in the category 'ideas for the future' of the Douro Verde Invest competition.
It will be a productive winter for us, as starting Portuguese entrepreneurs.
Meaning of Vailá
Vailá comes from 'Vai lá' which literally means 'You go / he/she goes there', but it is never said in Portuguese. Because there are different words to say 'there' in Portuguese: 'Aí' (where you are), 'ali' (not far from us), além (far from us) and 'lá' (what we are talking about).
Lá is used more in a referring/figurative sense, while you use 'ali' or 'além' to point out a location. A Portuguese would rather say 'vai ali' or 'vai além' and in imperative terms 'vá ali', 'vá além' or worse 'anda lá'; literally 'walk there' or 'stop it'.

That is the advantage of the immigrant; because of our juggling with the language, we found a sounding, easy to remember name: Vailá!
Portuguese business words
| | |
| --- | --- |
| plano de negósios | business plan |
| empresa | company |
| empreendedor | entrepeneur |
| oportunidades no mercado | market opportunities |
| público-alvo | target audience |
| missão | mission |
| âmbito | scope |
| custos iniciais | initial costs |
| exercício | exercise |
| concurso | contest |
| vencedor | winner |
2 aug 2020