Yesterday I walked up to our ruin, without suspecting anything, when my eye caught a small brown moving ball on an old vine. Wow, a bunch of bees! A little swarm had landed unnoticed in our garden.
How nice! But where did we put all our bee stuff? In the Netherlands we had kept bees for a few years and we thought it would be nice to start again in Portugal. And now, this swarm just presented itself.
Like you would with an unexpected visitor, we dropped everything and dived into the storage. Fortunately, the bees stayed until we found everything. And even better: the swarm was easy to approach and we could, hoppa, shake it immediately into a nuc box. That saved another transfer from basket to the wooden hive later that night.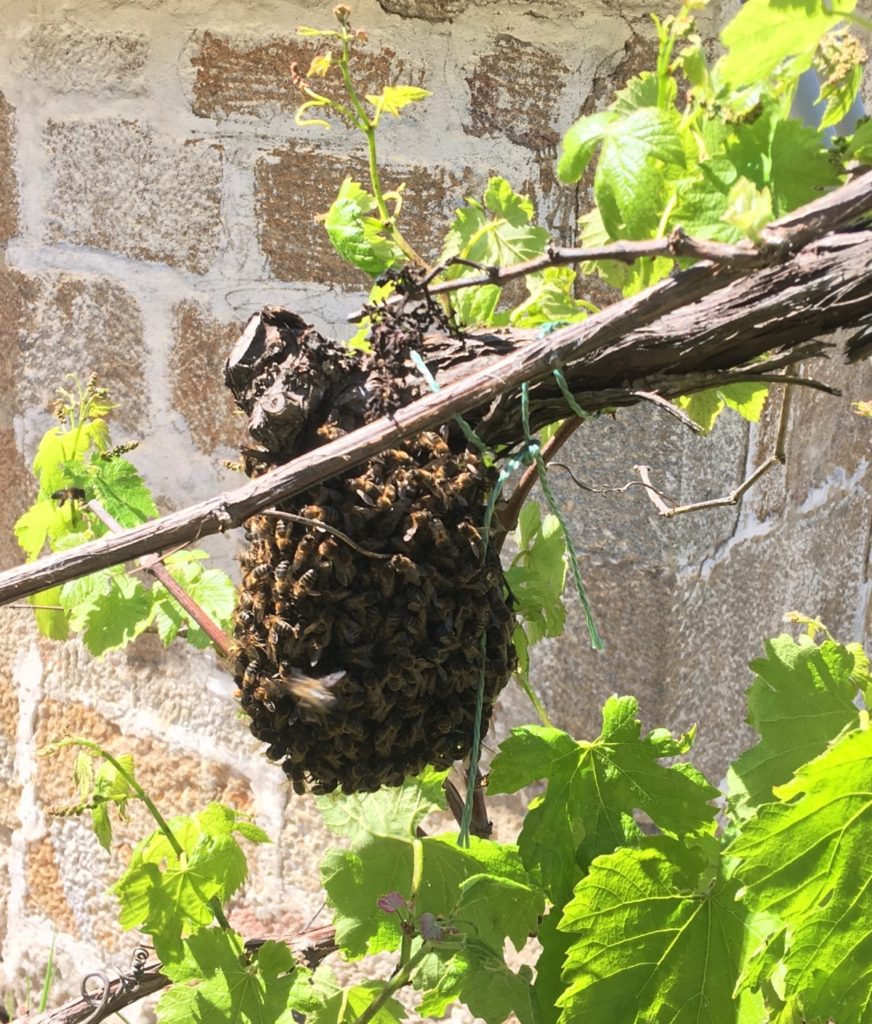 What next? How do you keep bees in Portugal? What are the regulations and customs? Might this swarm be from the neighbor and should we check that first? If so, he may have the swarm back. But what are the Portuguese beekeeper words, so we can ask?
Portuguese words for a beekeeper
| | |
| --- | --- |
| honeybees | abelhas |
| a swarm | um enxame |
| catch a swarm | capturar um enxame |
| beekeeping | apicultura/ criar abelhas |
| beekeeper | apicultor |
| wooden hive | colmeia |
| nuc box | colmeia núcleo |
| beehive | colônia de abelhas |
By coincidence, Nuno saw the neighbor in question passing with a hive. And he succeeded, with some improvisation and gestures, to explain we had caught a swarm. The neighbor granted us the happiness, because he himself was without any bees. He as well had his hopes up for a swarm.
After we had caught the swarm we had to choose a permanent location for the hive. During which all the beekeeper facts slowly came into our minds again. And for me especially, memories of making a documentary in 2012, about three different beekeepers in the Netherlands.
A handful of bees.
It made us realize that beekeeping doesn't bring only joy. The bees, and all insects actually, are having a hard time. In the past 30 years, the overall insect population has been reduced by 75%! The natural balance within ecosystems has been disrupted. You also see that with the bees; their resistance is low. They are attacked by exotic parasites and robbers, such as the varroa mite and here in Portugal by the Asian hornet.
So now we will care for this hive, we will have to do some research again. Learn how to keep bees here in Portugal, how we protect our bees best against local threats and diseases.
Fortunately, we had already chosen bee-friendly trees for our garden (fruit trees, berry bushes, maple, linden). The bees must have seen that before they swarmed here!
At my first research on the internet, I came across this website of the Portuguese Ministry of agriculture, region North, a manual for the beekeeper. Manual apicultor

Read more about our experiences with beekeeping in Portugal
Some more Portuguese beekeeper words
honey
mel
combs
favos
queen
rainha
work bees
as abelhas operárias
drones
os zangões
smoker
fumigador
wax
cera
bee feeder
alimentador
brood frames
caixilho de cria
frame
caixilho
brood chamber
ninho de criação
honey chamber
melgueira
May 3, 2019