Already before we moved to Portugal, I had set my mind on an electric bike. Imagine: exploring our surroundings by bike, waving to neighbors, the wind through my hair, the whistling of birds, stopping here and there and most of all no vroom-vroom sound of a car. Joyful!
Only, those slopes… The road where we live drops 100 meters in about 1 km, or rises 100 meters in about 1 km, depending on which direction you choose. Cycling like in my joyful imagination, no change…
And yet that e-bike had to come.
Bicycle brands in Portugal
Electric cycling is still at an early stage in Portugal. In some coastal areas, major cities and tourist areas it is emerging. You will find enough bicycle shops on the internet, where you can buy or rent, electric or not. In the hinterland you can find a few good bicycle shops, aimed at (semi) professional cyclists and mountain bikers.
However, I wanted an electric hybrid bicycle for recreational use in a mountainous area. That was quite a search! Of course, I could have bought a bike in the Netherlands, but I preferred a brand that is known here. If the bike is having problems, I can get it fixed.
The best-known bicycle brands in Portugal are KTM, Canondale, Cube, Merida, Trek, Scott, Haibike, Specialized and Pinarello. Most electric bicycles are equipped with a Bosch motor.
Portuguese bicycle shops
But whereas in Holland you can take a test drive at any bicycle shop as soon as you walk in, that is not the case here. After extensive research on the net, I had a few options in mind. A Haibike sduro or a KTM macina. The closest bike shops where they could be selling them are in Porto and Viseu. I was kindly helped in all of them, sometimes even in English. I received a detailed technical explanation about the bikes, but not about the model I was interested in. 'Cause they didn't have them in stock or couldn't deliver them.
Mmh, perhaps I could then take a test drive on another model of those brands? That was not possible, or only on special show days. And still they couldn't deliver the model I had in mind. They often tried to sell me a different model, in which I was not interested at all. After 6 stores, it made me a little despondent. I certainly wouldn't buy an expensive bike without having a test drive on it.
In May 2018 we went to Lisbon for a few days. I found a bike shop nearby that rents and sells electric bicycles. At be-electric we rented a haibike and a German tank for Nuno, a Riese & Müller, both with helmets. It was a great day to test a bike. There was a strong northwest wind and from Cascais we could do a nice climb towards Santuário da Peninha. A chapel and palace at 488m height.
fietspad langs Portugese kust

met mooie natuur

uitzicht over het testparcour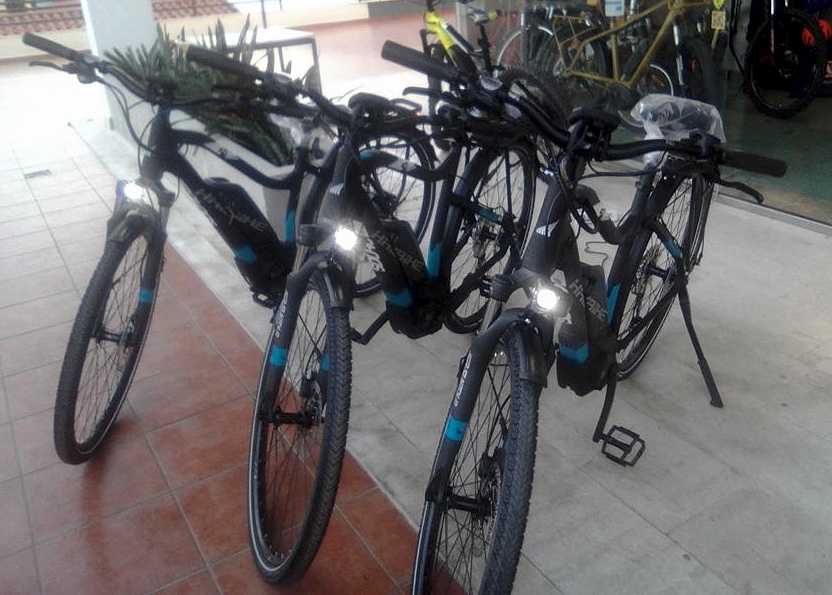 First, we drove laughing against the wind, along the coast. And then the climb followed. Despite the bike saddle pain we went up the mountain quite easily. We were enjoying this electric cycling! And although we hadn't cycled for a long time, we sizzled down the mountain again with confidence. (45 km/hour!) The Riese & Müller was an impressive bicycle, but almost €1500 more expensive than the haibike. So I stayed with the Haibike. It took 2 months for it to be delivered, but the owner personally delivered it to our door.
So now I cycle again! Waving to neighbors, enjoying the whistling of birds, but without the wind through my hair. A bicycle helmet is mandatory on the electric bicycle in Portugal and if not; I wouldn't dare without it!
---
Useful Portuguese words:
| | |
| --- | --- |
| electric bike | bicicleta elétrica |
| bike shop | loja de bicicleta |
| frame | quadro |
| wheels | rodas |
| motor | motor |
| battery | bateria |
| tires | pneus |
| the price | o preço |
| discount | desconto |
| time of delivery | tempo de entrega |
| brake | travão |
| sprocket | cassette |
| gearshift | manete de mudanças |
| weight | peso |
| carrier | porta-bagagens |
| saddle | selim |