One of the most difficult things about renovating the ruin is to keep its original character. In Holland we found our house after renovating it, too neat, too tight, too "normal". We don't want that to happen to our Portuguese villa. We want to retain its charm, to restore its former glory. Thus, renovate as much as possible according to the original design.

In recent weeks we have done a lot of thinking about the doors and windows of the first floor. These are 3 pairs of balcony doors, the front door, 4 traditional sash windows and some small windows. The original design dates from 100 years ago according to building regulations at the time. And we want upgrade that a little bit; less draft and rain and more insulating.
Traditional Portuguese doors
Since the ruin is ours, every other old building in Portugal has been interesting: maybe we can copy something from it.
Well-maintained buildings have often the original doors and windows replaced by PVC or aluminum ones. There is much to be said for this if you hate painting, but we prefer wood. And you see a lot of beautiful wooden traditional doors in Portugal.

Our imagination ran wild. Such a beautiful door would be an asset for our ruin.
A second-hand door would be a ready-made solution and an eco-friendly choice. But second-hand materials are scarce in Portugal and if you find something it is usually expensive. In addition, you often read that the beautiful authentic details of old buildings simply came into the possession of the sellers through theft. That made the idea of getting a second-hand one less appealing.
Details for wooden doors and windows
Along with the decision to have new wooden doors and windows made, a new series of dilemmas came up:
– Can we make the doors and windows ourselves? No, because we don't have the right tools for it.
– Who can make it? Probably one of the local carpenters
– Exactly the same as the old one? No, because the current doors have no frames, everything is with single glazing and we'd like some windows to be larger to have a better view
– Double glazing everywhere? As much as possible, but not in the sash windows, because they will become too heavy to use.
– HR + glass? No, outside our budget
– Do we also replace all interior doors? No, because when open, they also block a lot of light. Double glazing and curtains will do. This also saves money / time.
There were more decision to be made like that. But after that I got behind SketchUp, to make the design to get some quotes.
Design doors and windows in SketchUp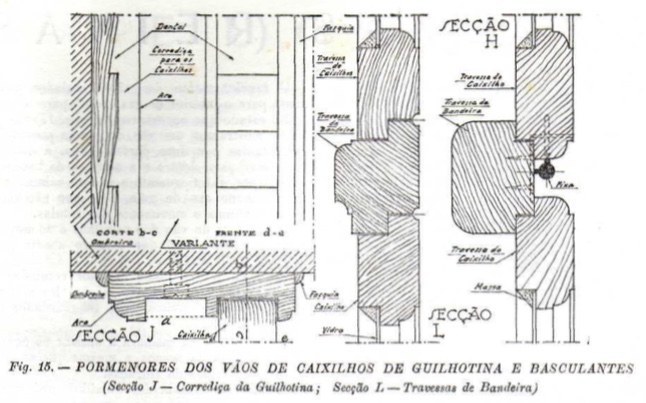 Designing doors and windows in SketchUp was not easy. I was messing around a lot with the program and what put into the design. On the net I found other building plans of sash windows and doors, which was a great help. There were also old drawings of Portuguese doors and windows. So I even began to learn the Portuguese words. At this stage we did not have to include all wood connections in the drawing. On the other hand, we wanted to make it clear that the cover slats of the windows and the frame must be made of 1 piece of wood. (tip from our supervisor, Dona Rolha's dad). And that we want to execute the sliding windows with slide and meeting rails (also a tip from our supervisor).
During the design process, I came to more details for hemming and hawing. How thick and high do we want the frames and thresholds? How thick should the doors be for double glazing? How do we divide the windows of the balcony doors if we want the glass surface to be slightly larger?
I was worried that the doors would become too "modern" with our wishes of more and double glazing. So I searched the internet for the source of those beautiful old architectural drawings of Portuguese doors and windows. And I found it!


Enciclopedia da construção
The drawings appear to come from an old Portuguese reference work for construction: Enciclopedia Práctica da Construção Civil. This encyclopedia consists of 30 parts and describes the building standards for houses. The copy I found is a 1955 edition. And I suspect that we're often going to use this reference work on hemming and hawing moments during the entire renovation.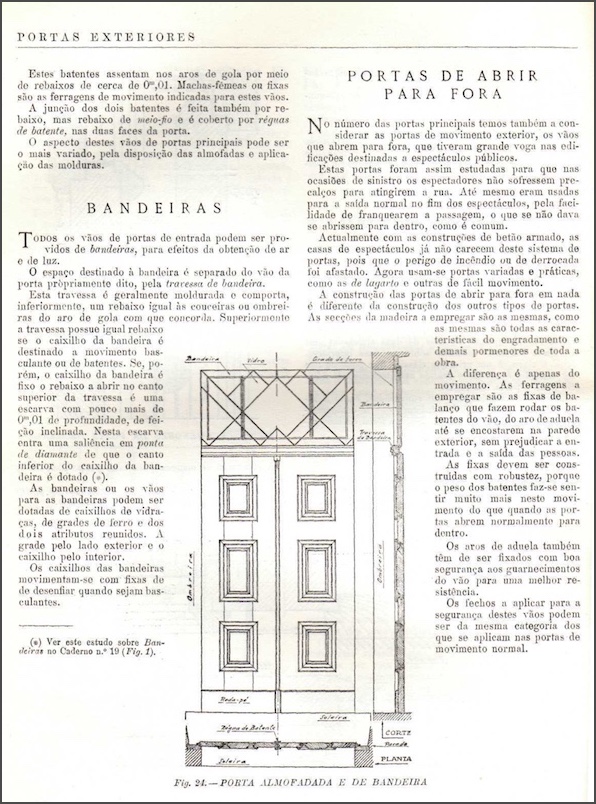 In the meantime, we gave the drawings to few carpenters for making us a quote. The things we learned from the encyclopedia came in handy there.
When requesting the quotes, we had to make choices again: what kind of wood, what kind of fittings? They prefer Kambala here. This is tropical hardwood, also known as Iroko.. However, we prefer local chestnut wood, because it was used in the past too.
The conversations with the different carpenters were nice. Now we are waiting to see what the price will be …

If you are interested in the SketchUp files or the downloads of the encyclopedia, contact us.
Useful Portuguese words:
| | |
| --- | --- |
| the door | a porta |
| the front door | a porta principal |
| balcony doors | portas da veranda |
| windows | janelas |
| sash windows | janelas de guilhotina |
| frame | aro |
| threshold | gola |
| single glazing | vidro simple |
| double glazing | vidro duplo |
| carpenter | carpenteira |
| quote | oferta |
| framework | vão de janela |
| doorway | vão de porta |
| panel doors | portas almofadas |
| transom window | bandeira |
---