One of the places we always visit when we have guests is the Vale de Bestança. The Bestança is a mountain river of 13.5 km long, which flows into the river Douro. The valley is beautiful and unspoiled. Where you walk on ancient paths, rarely meeting anyone except an old farmer with a few cows or goats.
During the last years we've seen some little changes in the area. The municipality of Cinfães, to which the Vale belongs, has embraced the river as one of their touristic highlights. An information centre was opened in 2015. A network of walking paths has been set out and marked. (PR1 is our favorite). An ultra trail marathon is being held and some of the bridges were renewed. Luckily it didn't lead to an invasion of tourists and so the serenity has been preserved
Bridge before 2014

Bridge after 2014
That could have been different because in 1993 there were plans to build a hydro-water dam in this beautiful valley. It would mean that a part of the valley would be flooded and the old infrastructure and biodiversity would be lost. Fortunately, a number of people from the community successfully took action and stopped the construction of the dam. This group is now still organized in an association for the preservation of the valley.
The 'Associação para a defesa do vale do Bestança' organizes walks, cleanups and school excursions. In the summers we see the members on the 'Prado', which means as much as meadow. There are several meadows for cattle along the Bestança, one of them has a small house that serves as a clubhouse of the association. Members are allowed to camp on this meadow and use the outdoor shower and kitchen. And yes, of course, we are a member, although we prefer to camp in our own garden!
Prado do Bestança

Clubhouse before 2014

Clubhouse after 2014
Unknown is unloved
One time we had a nice conversation with the chairman of the association, Jorge. He is one of the founders/ activists of the association and has written a number of books about the Vale de Bestança and its surroundings. He knows every farmer and landowner of the valley and likes to convince everyone how special and unique this valley is for Portugal. And at the same time, he realizes that it should not become so popular, that it will make dozens of quads driving the paths here.
A difficult dilemma if you want to protect nature.
To be honest, we didn't expect at all there would be a group in Portugal to protect nature because we see more illegal dumping in nature than special animals and plants. But that the Bestança is a unique place, is not difficult to see. In this valley, for example, there aren't eucalyptus forests planted. You often see birds of prey (buzzard or a booted eagle?). Traces of foxes and wild boars and you hear a remarkably lots of birds. A friend even saw a white-throated dipper and in spring we sometimes see the oriole. Along the walking route to the Prado you'll find boards with info on the flora and fauna. (even in English!)
Never regret a good swim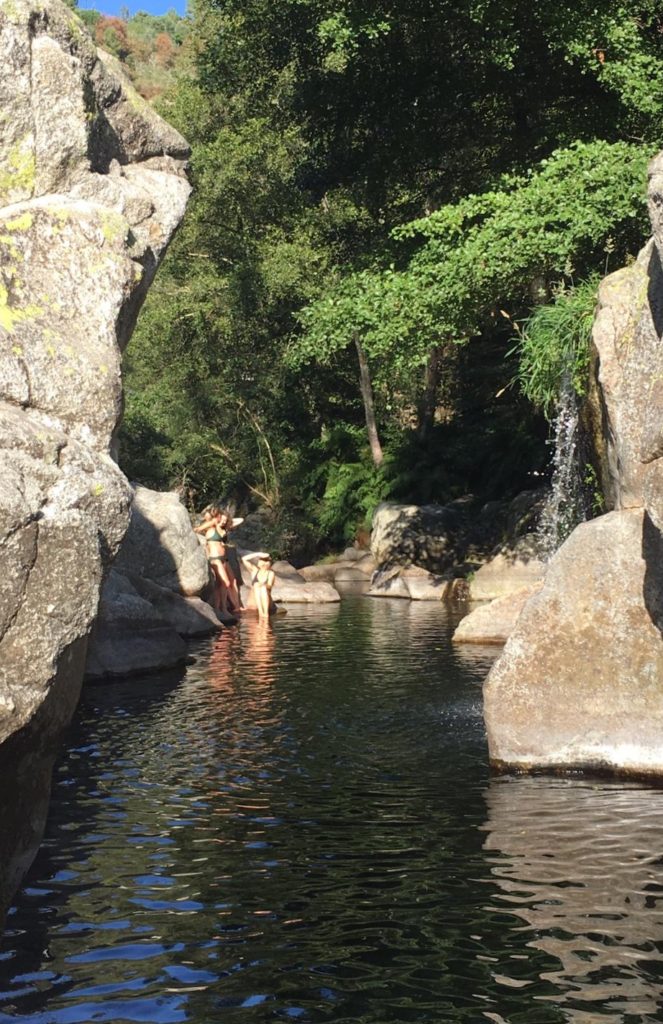 But the best thing about the Bestança is that you can have a really good swim to cool off in summer. We already know 3 places where you can swim, dive and bathe and there are more. We regularly see a picture of the Bestança with a beautiful waterfall or pool that we do not know and then we want to go there too (with or without guests).

Cinfães made a 'parque de lazer', a picnic area, close to the mouth of the Bestança in the Douro and near the information centre. There's a nice bar that is open all year. It is the only place where you can easily get to the Bestança by car. A staircase will lead you to that refreshing dive.

The other swim spots can only be reached by foot, a steep walk of ± 25 minutes. No bar there and therefore often completely private. You don't have to worry about the quality of the bathing water: The Bestança got the title of being 'one of the cleanest rivers in Europe'. (But I haven't found the scientific proof for that yet.)
Practical Portuguese words
| | |
| --- | --- |
| the river | o rio |
| picnic area | parque de lazer |
| the valley | o vale |
| the meadow | o prado |
| to swim | nadar |
| the bridge | o ponte |
| a (river) pool | um poço |
| a waterfall | uma cascata |