"Contribuinte?", Is the question that you often get when paying.
Why do you always get that question about your Número de Contribuinte (also called NIF)?
The Portuguese government started its fight against tax evasion in 2014.
The existence of the black and gray payment circuit is seen as one of the reasons that the Portuguese economy had come to be in such a deplorable state.
And because the Portuguese do not like to pay taxes – who does? -, a playful way was devised to boost the lousy tax morale; with every payment you make with your NIF you participate in a lottery.
This "sorteio da Fatura da Sorte" (draw of the lucky receipt) still exists, in a slightly modified form.
In the first years, a fast car was raffled every month as the top prize.
The car you can no longer win, but there are still big prizes to win in the form of state savings certificates (value 35,000 euros).
And in addition, providing your tax number is encouraged with tax reductions, with a maximum of 250 euros in deductible costs per category.
On the "Portal e-fatura" site you can see how many deductible costs you have saved in the various categories with your linked receipts after you have logged in as Consumidor (with your NIF and password).
Categories include: health, car maintenance, hairdresser and travel expenses.
If you're on that page anyway, you can immediately find a handy tool:
under the deductible costs you will find the possibility to download a "Cartão e-fatura", a ticket with your NIF number on it.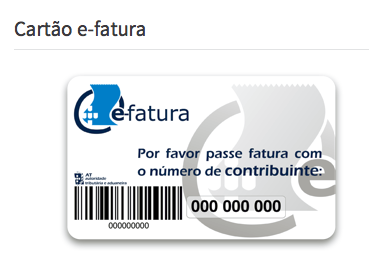 Just print it and you can forget about that tricky NIF number:
at the checkout you can now simply hand that ticket!

Unless of course, you do not pay taxes in Portugal,
Then you simply say "Não precisa" (is not necessary).
Practical words:
| | |
| --- | --- |
| receipt | fatura |
| luck | sorte |
| lottery | sorteio |
| tax office | finanças |
| taxpayer | contribuinte |
| taxes | imposto |
| fiscal number | NIF |
| check-out | caixa |
| dispenses | despasas |
| health | saúde |
| password | senha de acesso |