My daily cooking habits haven't changed much after the emigration. Although we adapted our regular dishes slightly to the available ingredients. Instead of kale, I use pre-cut caldo-verde soup cabbage. I make bean sprouts for gado-gado myself from mung beans. And instead of endive, I put nabiça in the Dutch potato-endive-mash.

Nabiça is the leaf of 'nabo'; turnip or white turnip. You can also buy the leaf of the flowering turnip, then the vegetable is suddenly called 'grelos'. Which is one of my favorite Portuguese vegetables that I couldn't buy in the Netherlands. Nabiças are also tasty, but less distinct, just like raw endive…
In Holland, we also know turnip tops, but they are the leaves of another turnip, which results in a slightly different taste. Another type of soil and weather will also be of influence.
In autumn 2019 turnip tops were the latest food trend, according to some English newspapers. Followed of course by the price in English supermarkets too: £10/kg!
dailymail.co.uk/How-turnip-tops-latest-delicacy
During a day trip, we passed along a stall, where I bought cherries. They also had homemade salpicão, which is a local specialty. When people slaughter their pigs, they use the intestines to make sausages. Salpicão is one of these homemade sausages, filled with a mixture of pork loin, wine, garlic, salt, bay laurel and/or pimenta. The mixture goes in the intestines with a strip of pork fat. Then they hang the sausages up to smoke them for a week.

Smoking is a tradition in our area. The art of 'fumeiro' is highly valued here. Therefor, I had to buy I the salpicão and used it as an alternative to a Dutch smoked sausage (rookworst), which tastes good with potato-endive-mash.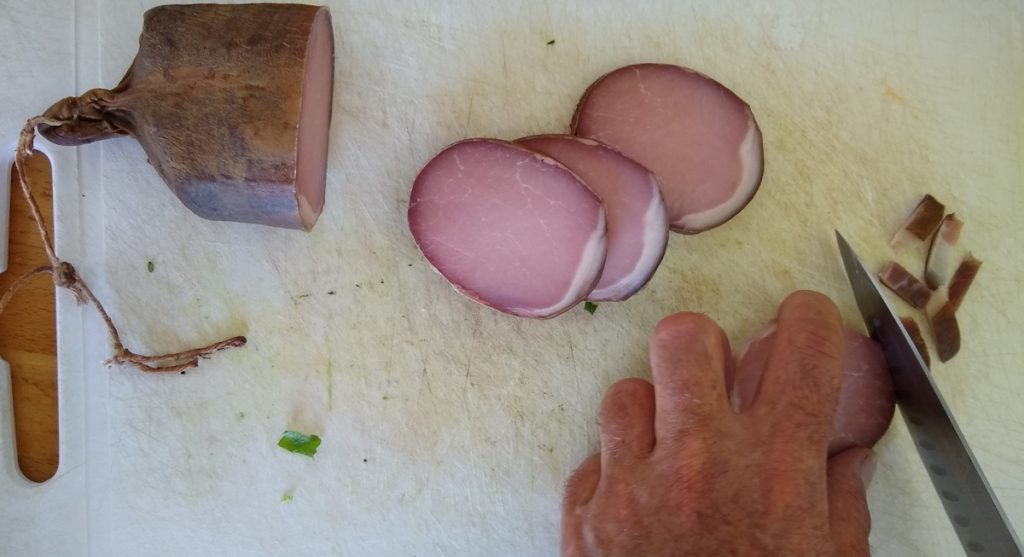 The funny thing is that the old kitchen of our ruin has also been used as a smokehouse to make salpicão and other sausages and hams. When we bought the house, the fireplace and chimney had already collapsed, and the whole room was pitch black. The smoke from pork fat has left a special layer on the walls and ceiling. That's going to be a nice little job…
Portuguese words
| | |
| --- | --- |
| nabo | turnip |
| nabiças | turnip tops |
| grelo | leaf with flowers of turnip |
| salpicão | traditional Portuguese smoked sausage |
| | in Brazil: salad of vegetables, chicken and frutes |
| fumeiro | smoked meat |
| caseiro | homemade |
| enchido | dry sausage |
| alheira | sausage of chicken, bread and garlic |
| salsicha | sausage |
| charcutaria | charcuterie |
| grossa de porco | pork fat |
| caldo verde | traditional Portuguese cabbage soup |
| delicioso | delicious |
| bom trabalhinho | nice little job |
---
2 juni 2020