The days are short now, and the nights are long, so we crawl up in our little cabana. In the evening we spend our time online or occasionally read a book. And to 'practice' Portuguese I watch RTP (Rádio e Televisão de Portugal) on demand. I recently watched a nice German series "Deutschland 86" on this channel with Portuguese subtitles. (practicing German and Portuguese!) I also try to watch original Portuguese programs to practice my listening comprehension. But most of the time I lose my concentration after 5 minutes.

But then, one night I fell into The Voice Portugal. The first edition of "the voice" was broadcasted in 2010 in the Netherlands. And the inventor of it, John de Mol, sold the format to more than 150 countries.
It is a slow, predictable, yet entertaining program. And because the Dutch original is almost excactly copied, I don't need subtitles to understand. And that makes it a very effective Portuguese practise!
A singer's contest judged by…
There's an important role for the jury of the Voice. During the first episodes of the series the four judges select candidates for their team. Sometimes two, three or all four of them are fighting for one candidate. And offcourse this happens with lots of DRAMA.

Like in the Dutch version, the jury is selected to match four stereotypes. The old, father-type man, singer of 'chansons' in his native language. The young, modern woman who sings traditional (old style) pop songs. The older rock chick, with sharp remarks. And the younger rapper, with a soft heart.
In Portugal these are António Zambujo, Aurea, Marisa Liz and Diogo Piçarra.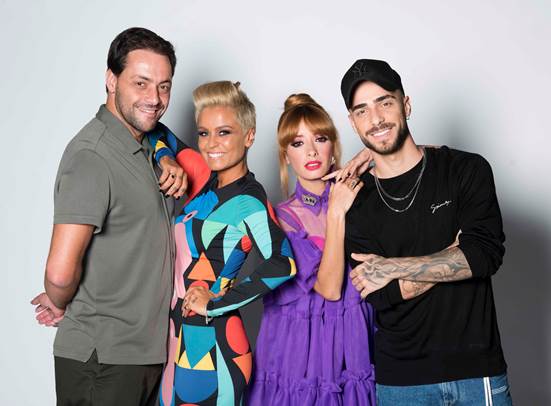 Awfull show, but Marisa Liz is fun
To be honest, I am not a big fan of this kind of TV. It is soooo predictable and soooo obviously scripted and then it takes soooooo long. Every episode in Portugal lasts for 3 hours and 15 minutes on Sunday night.
But considering it as a Portuguese lesson in language, culture, and manners, makes it really interesting.
And one member of the jury stole my heart: Marisa Liz.

This Lisbon singer is known as fadista, she likes to dress up, and she is the frontwoman of the band Amor Electro. And they have some nice songs like this one. Look at her wonderful outfits in this video clip!
Best candidate of the Voice 2019
Since that evening I didn't watch another episode of this commercial bullshit. But if it rains another 6 weeks in a row, I just might. Hopefully the nicest candidate of the episode I've seen, will still be in the running. It's a guy from our area, Hugo Vasconcelos. But probably he won't win, my favorites never do…
Short list of usefull words for 'The Voice'
| | |
| --- | --- |
| the voice | a voz |
| the chair | a cadeira |
| in my team | na minha equipe |
| a boy | um rapaz/menino |
| a girl | uma menina |
| I want | eu quero |
---