"Why did you come to live in Portugal?" many here ask. I always answer that question with "For another life".
By that meaning the wish to do something different with my life than I did before. I worked for ± 20 years as a freelance filmmaker. And despite the fact that I did my work with great pleasure and I was in the fortunate position to work on great projects, the thought of continuing that for another ±20 years was oppressive. I want to reinvent myself and discover what else I can do.
The emigration to Portugal forces me to learn a lot of new things; of course the language and also in the field of building and renovation. And as a freelancer, I now focus more on writing texts and scripts (see more).
comeback of the director
At the beginning of June, my yoga teacher's husband Hugo called. The festival where they perform every year has an on-line edition this year and he was asked to deliver a video of their performance. Could I help him with that?
Of course, although I immediately wondered if that could be an interesting video. Cátia and Hugo are world champions living statues. That could turn into a very static video.

But Hugo took away my doubts right away. For this online edition, he decided to show his juggling skills with a cristal ball. I had never heard of it, but this so-called 'contact juggling' is one of the most difficult juggling disciplines, I was told.
Hugo, therefore, asked as much time as possible to train before the deadline. On the agreed ultimate day for recording, it was raining cats and dogs. Hugo send me an app in the morning: Can we move it to tomorrow? I reassured him; no you'll see, it'll clear during the afternoon. I'll be there after lunch, if it isn't, we can find a solution.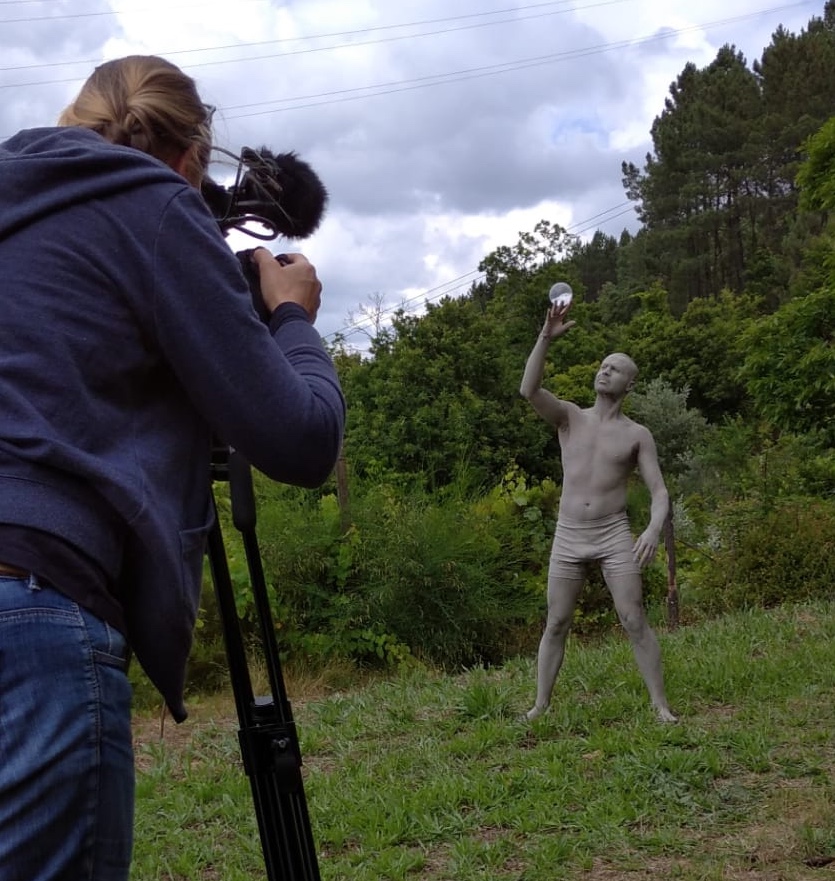 And yes, after lunch it stopped raining, although it was not yet sunny. Upon arrival, Cátia was body painting a shivering Hugo from head to toe with clay. The otherwise relaxed Hugo seemed a bit nervous.
It calmed me down and I stayed so even when Hugo said that the festival asked if we could deliver Monday morning instead of Tuesday morning. I'll do my best, I said.
Fortunately, things went very well. The recording went smoothly, the sun came out nicely and the next day I edited the video rapidly together. I sighed at Nuno if only our renovation project was always going so smoothly and without headaches.
Thanks to my first Portuguese production, I realized: my previous life was not so bad either!
the result