We wish you a wonderful 2020!
As one of our resolutions is to learn more / better Portuguese, I've read a Portuguese newspaper today. It featured an interview with contemporary Portuguese artist Bordalo II, whom I have been following for a few years.

Bordalo II: street or contemporary artist?
Bordalo II (pronounced Bordalo Segundo), is born as Artur Bordalo (Lissabon, 1987). He named himself 'the second' to honour his grandfather, painter Artur Real Bordalo (1925-2017), of whom you can see some works in the Museum of Sintra.
Bordalo II creates sculptures of trash: scrape, plastic, metal, wood. They portray animal figures and vary in size between 1 meter for indoors or 13 meters for outdoors.
His style reminds of graffiti. His works are finished by layers of spray can paint in bold colors and harsh contour lines.
The works show a hint of guerilla/underground. Which is no surprise, knowing that most works are assembled on location in just a few days.
Today Bordalo II is one of the most important Portuguese artists. He placed himself definitely on this stage after his first solo exposition in Lisbon in 2017: in just 22 days it attracted 27000 visitors. He is popular.
Trash animals
His popularity grew with his series of works "World Gone Crazy", containing big wall pieces portraying animals. Through these works, he expresses his worries about the environment and the biodiversity on this planet.

He explains: "If we start to look behind consumerism, we look in a trash bin. The deeper we dig in it, the more disgusting it becomes. It makes you realize that environmental problems are linked to the consumption and production of cheap products. Cheap products which are made in places without rules, without control, without any limitations but with a big ecological footprint."

A bitter but very urgent message if you look at those cheerful images of endangered species.
Where to find?
There are 188 pieces spread around the world of Bordalo II. In Portugal, you find many in Lisbon, but also in the Algarve, Coimbra, Bragança and Porto. Out of Portugal, you find them in Tahiti, Paris, Mexico, Aruba, just to name a few.
Lots of these works are made during a festival or an event, like Boom Festival or during the Climat Top in Paris. (The half owl, at the top of this post)

Bordalo works with a team of 6 people. The bigger pieces require sometimes more people or he creates them together with local communities. Like he did in Aruba, where he, his team and locals created this Pelican: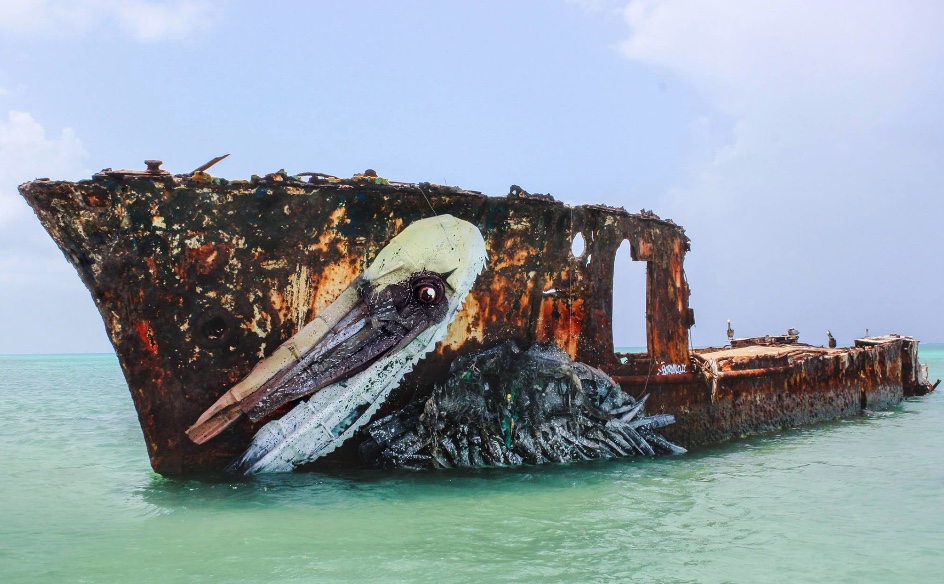 Background Bordalo II
In the article I read, Artur Bordalo talks about his youth. When he was only 11 years old, he sneaked out of the house to spray tags on the walls and subways of Lisbon. Innately for the kick, but now he says: Graffiti is a sort of copying of advertisement, which is visible in every street, drilling the message "consume, eat, buy" in our heads on behalf of companies such as Coco-Cola and McDonalds.

After college, Bordalo spent years at the Lisbon Academy of Fine Arts, but he did not finish any course. During that time, he started making wall pieces in different places in Lisbon, made of the cheapest material available; waste. Real street art, guerrilla. He posted images of it on Facebook until it was picked up by magazines and other media.

Although he criticizes social media, it has been the base of his success. Not only because of the positive reactions but also because of the negative ones. A friend commented on his work in the early years: "It is nice to look at, but it doesn't say anything. Like having a beautiful girlfriend but with an empty head". It made Bordalo think. Since then, his works are a statement about the climate, consumerism, and the plague we are as humans for nature.

Follow Bordalo II on Facebook: facebook.com/BORDALOII
All images in the post are from this page.
Do you also want to read about Bordalo II in Portuguese?
This is the article by Alexandra Carita, I read: expresso.pt/O-perfil-de-Bordalo-II

Some Portuguese about Bordalo II
| | |
| --- | --- |
| arte | art |
| artista | artist |
| pintor | painter |
| lixo | trash |
| consumismo | consumerism |
| ambiente | environment |
| animais | animals |
| em vias de extinção | in danger of extinction |
---
5 januari 2020