About 3 times a month there's a cultural event in our main town. A lecture, a film, a play, a dance performance or a concert. And the nice thing about it is; the admission is free! Probably with the underlying idea of uplifting the people and preserving the cultural heritage.
Unfortunately, the events start relatively late (9:30 pm), which doesn't combine well with our daily work routine. And since the events for children or events in Portuguese are not our thing, the number of events we like to go to is not that big.
Always too early…
Every now and then, there's a nice English-spoken film (with Portuguese subtitles) or there is an appealing performance, for which we want to leave our house on the hill. The announcement of these events tells us that admission is free, but it is advisable to pick up tickets during the days before.
Last Saturday evening we wanted to go to the performance of a guitar and mandolin orchestra. And because I already had to be in Cinfães on Thursday, I also stopped by for tickets. Unfortunately, the ticket office was not manned despite the announcement. We then had to try an hour before the start of the concert.
But unfortunately, at that time, again nobody present! After a drink in the nearest bar, we were back at the auditorium 5 minutes in advance of the concert, being two of the first visitors. There were only a handful of interested people because Porto was playing soccer and because of International Women's Day, various women's dinners were taking place.

Some concert members and visitors trickled in and the hall opened at 9:45 PM. In the Netherlands, this would be unthinkable! That's why we're always too early here …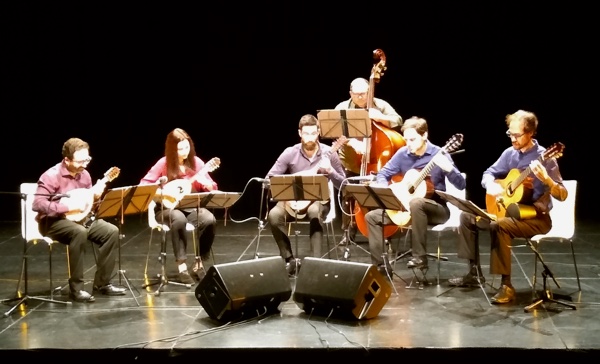 Orquestra Portuguesa de Guitarras e Bandolins
The advantage of such a run-up is that you enter the room without any expectations. Which might lead to being pleasantly surprised; it was beautiful!

Orquestra Portuguesa de Guitarras e Bandolins had come in a very small line-up this evening. 2 guitarists, 3 mandolin players, and a bass player.
The repertoire consisted of well-known light-classical pieces and film music, which were converted by the orchestra for the Portuguese mandolin and guitar. The Portuguese mandolin has its own unique sound. It reminded us of western music. It was very special to hear how the orchestra converted the well-known pieces from, for example, The Godfather, Pirates of the Caribbean and Zorba.
It must be truely impressive to see the orchestra in a larger line-up:
Portuguese words for a night at the auditorium
| | |
| --- | --- |
| admission | entrada |
| ticket | bilhete |
| a performance | um espetáculo |
| guitar | guitarra |
| mandolin | bandolim |
| go on stage | subir ao palco |
| seat | lugar |
| row | fila |
| applause | aplauso |
| to clap | bater palmas |
| cultural heritage | património |
---
08-03-2020