Stuccing is a profession.
In the Netherlands we have followed a stucco course at the Rotterdam DIY school (unfortunately closed now) to really learn it. Before that course I always just fiddled around with a putty knife, it could take a while before I had finished a wall.
No surprise I was gentle pushed to take the course.
Fortunately it was a very nice school.
We learned to mix well, how to set up quickly, how to finish the wall and all the little tricks not in the books.
After the exercise in Rotterdam we were able to continue at home, both inside and outside we now dared to finish the walls.
The interior walls of our house here in Portugal are finished with tabique: stucco work on wooden walls. The walls are covered with tapered ridges, which ensure that the stucco stays in place.
So yes, you can stucco on wood!
Great help for fixing plasterboards
In the cabana we have used a more modern version of tabique as a wall finish: drywall.
Easy, just seal the seams and screws and you're done!
To make it a little easier for ourselves, we have purchased a panel lift for placing the drywall against the ceiling.
And that thing works really great! After properly measuring and cutting the plate to size, place your plate on the panel lift and simply turn it upwards, tightly against the beams or ridges, exactly where you want it.
Once it is up you have all the time to screw the drywall in place.
We bought the panel lift because we also wanted to finish the ceilings in our house with drywall.
We have already abandoned that plan; that's just what you get with an old house, constantly changing ideas and insights.
Yet we are very happy that we were able to use it in the cabana, without blood, sweat, tears and power terms we were able to attach those 3-meter-long plasterboards calmly.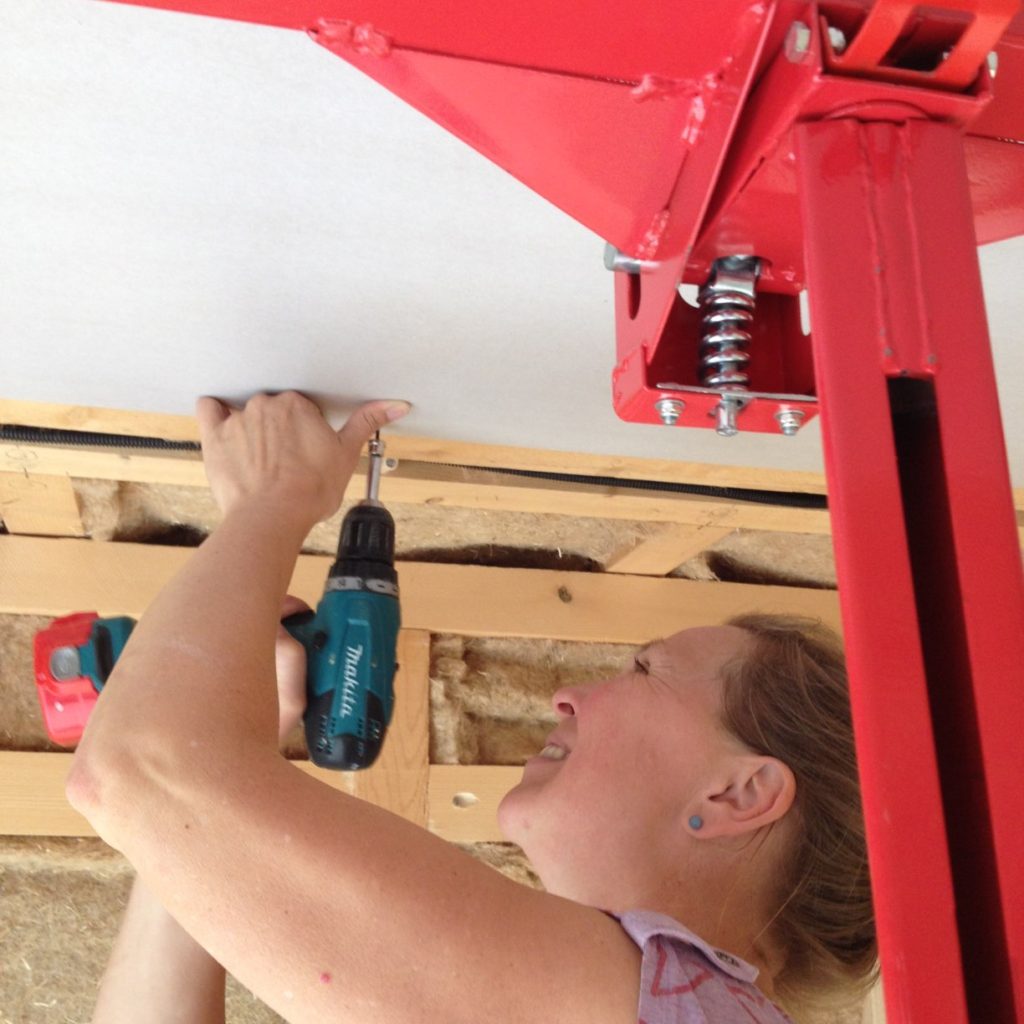 ---
Useful portuguese words:
| | |
| --- | --- |
| putty knife | espátula |
| plastering | estuque |
| traditional plastering | tabique |
| plaster | gesso |
| plasterboard/drywall | pladur |
| elevator | elevador |
| damn | caramba |
| retaining wall | muro |
| wall | parede |
| ceiling | teto |
---
20 oct 2019