A few times we drove the approximately 2000 km between the Netherlands and our destination in Portugal by car. We managed to do it in two days, with an overnight stay somewhere halfway, usually just below Bordeaux.
We made our first car trip to Portugal with our Saab 9000, with help from Tomtom right through Paris, crossing the border at Biarritz and then through Spain, direction Serra de Estrela.
The Saab had an automatic gearbox and we learned how to handle it in the mountains; when descending, switch to a fixed gear so that the engine helps with braking and the brakes do not become red-hot after a mountain ride.
The advantage of traveling by car is that you can take all these Portuguese goodies back home in the trunk: port, wine, and olive oil, things that are difficult to take with you in the plane.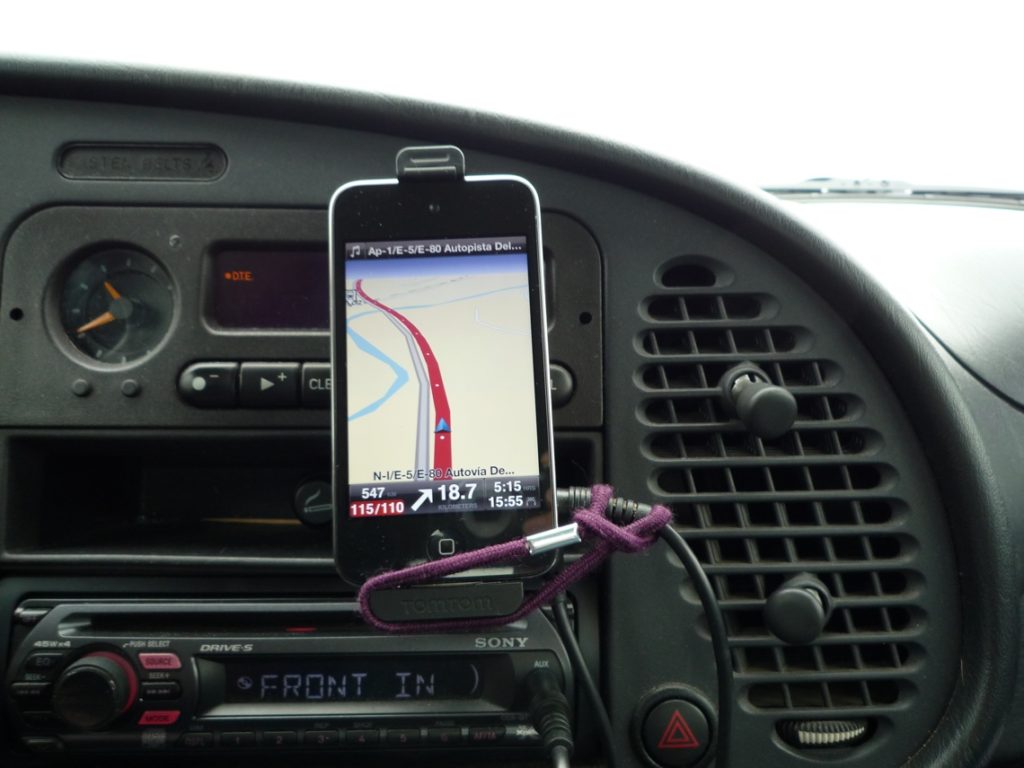 The old Saab needed too much tinkering, became too expensive and had to be replaced. We went for a Land Rover, the old discovery II model.
Love at first sight, 4×4 boy's dream, which cooled down after the first troubles. But still, a great car, that we wanted to keep it after emigration.
If you emigrate, you can import a car without import duty, a piece of cake.
All in all, it seemed like a good idea, certainly if you look at car prices in Portugal. But whether we would do it again after our import experience? Probably not. Reason number one for this is the high road tax, called Imposto Único de Circulação or IUC (Circulation Unique Tax), that we pay for our old (2002) disco. Cars that were registered before July 2007 benefit from a very low tax, because IUC was implemented on that date.
Previous to IUC, average cars used to pay a yearly tax of just 10€~50€.
The IUC to pay is based on the year of registration in Portugal, instead of the original year of registration. So despite having an old car, we have to pay for it like its brand new…
Further information and even a "simulador' to calculate the tax yourself can be found at the Portuguese road tax site.
car troubles
One of the disorders that our disco was suffering from in the Netherlands, we took with us to Portugal. After a steep slope, the engine stalled. And it got worse and worse, when it rained it happened, sometimes when it was very hot. It is very annoying to have an unreliable car with an unpredictable nature. Naturally, I searched on the internet and tried to repair everything from the fuel pump, oil filter to the turbocharger. The problem always kept coming back.
That's why we were looking for a good garage, not one of the local garages here in the area, but one specialized in Landrovers.
After a search on the internet, we arrived at the Jipelandia in Porto.
That turned out to be a success, with a neatly organized garage and the owner Carlos who speaks excellent English.
After talking to him some more checks were done: the red plug of the ECU fortunately was ok, but the engine oil smelling test failed: the oil smelled of diesel!
An appointment could be made by mail and telephone to replace the o-rings of the injectors in the garage.
While we were having a mini-break in Porto, Carlos kept us informed about the progress of the job via whatsapp photos. Very professional!
The disco has been running smoothly for a month now and it seems that the problem has finally been resolved!
Useful Portuguese words:
| | |
| --- | --- |
| the journey | a viajem |
| the highway | a auto-estrada |
| the car | o carro |
| the garage | o garagem |
| petrol | gasolina |
| diesel | gasoleo |
| the suitcase | a mala |
| filling station | a bomba de gasolina |
| the border | a fronteira |
| the mountain | a montanha, a serra |
| tax | imposto |