It is obvious that we do not like the beaten track. Although to me there's at least one exception:
Os Passadiços do Paiva.
Os passadiços da Paiva – the Paiva walkways- lie in the valley of the Paiva river. A beautiful mountain river where you can go rafting and swimming. The walking path is for 90% a boardwalk with some long spectacular stairs.

I have been there twice last year and if you ask me to go again tomorrow, I'll say yes immediately.

Both times I parked our own car at the bridge over the Paiva in Espiunca, officially the start or endpoint of the walk. I wish my knees could walk the 8.7 km back and forth, but they can't. And hey, it has the advantage that you have a chat with a local taxi driver while you are driven to the starting point. This is how I learned about the origin of the passadiços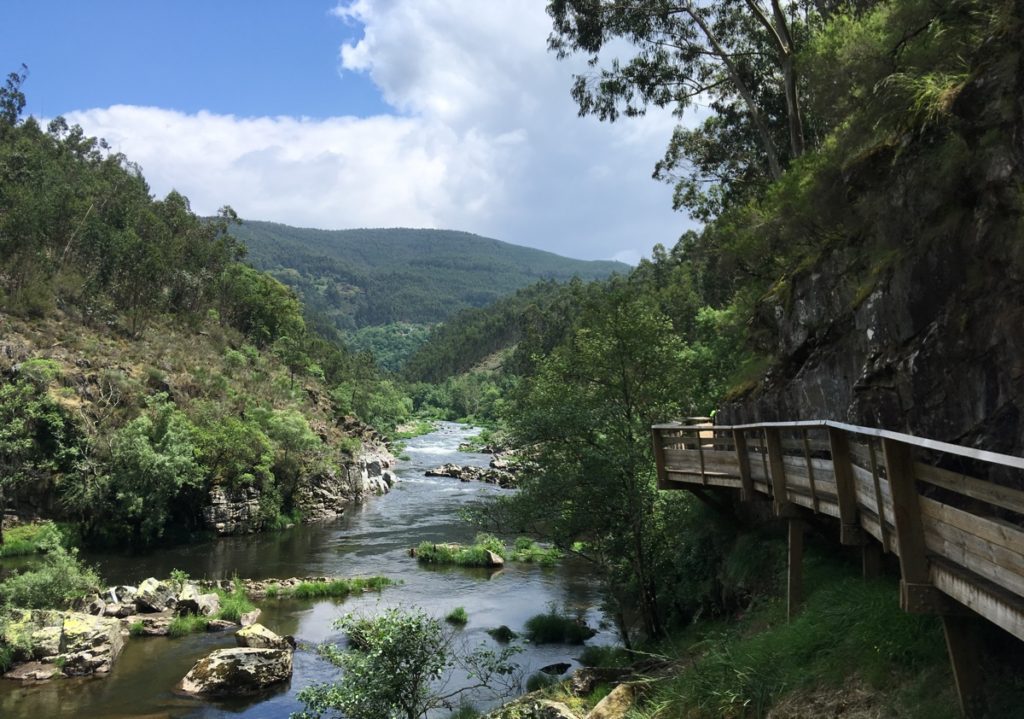 During the last economic crisis, the municipality of Arouca launched a competition for the best idea to promote tourism. The local canoe club, which had experience with organizing an annual international tournament, came up with a brilliant idea: A boardwalk right along the river that would open the untouched landscape for visitors.

The walkway was finished in June 2015 and received 200,000 visitors in the first months. After 4 months the path was unfortunately partly destroyed by a forest fire. After that, the walkway was improved and measures were taken to prevent a recurrence. According to the local taxi driver, all accommodations are fully booked during the summer. And on busy days, up to 3500 people come for a walk.
A success story
The popularity of the passadiços is evident all over the country, and so the concept is now being copied in various places. Famous and less famous Portuguese posted their selfies on social media and there has been much media attention, even in the NY Times.
What is so great about it? I think the success is mainly due to the fact that the walkway and the stairs are really beautifully made. You walk the path smoothly and the quiet, undeveloped environment is a relief. In addition, it is surprisingly varied and you can take a nice cool dip here and there. The path is very accessible and the staff is friendly and helpful. For example, water is distributed on hot days. At the start, halfway and at the end are small bars for a drink or a nice T-shirt.
And soon, somewhere at the end of 2019, the walk will become truly spectacular with a 150-meter-high glass-floor bridge over the valley.

So, you want to join me?
---
Some Portuguese for on the road:
| | |
| --- | --- |
| boardwalk | passadiços |
| the bridge | o ponte |
| the river | o rio |
| a wooden stair | uma escada de madeira |
| a ticket | um bilhete |
| two tickets | dois bilhetes |
| where are the taxis? | onde ficam os táxis? |
| the waterfall | a cascata |
| to swim | nadar |
| view | vista |
| viewpoint | miradouro |
| i am afraid of heights | tenho medo de altura |