Here in the Portuguese countryside, internet shops are indispensable. Especially if you are renovating and don't want to drive all over the country for that one tool or material only to hear that they don't have it in stock.
There are not many good internet shops in Portugal yet. That's why we often order from Spain, where there is a larger selection for DIY enthusiasts. Fortunately, the Spanish shops deliver to Portugal just as easily as to our own country.
There's one big BUT: The couriers need to able to (or willing to) come to your house.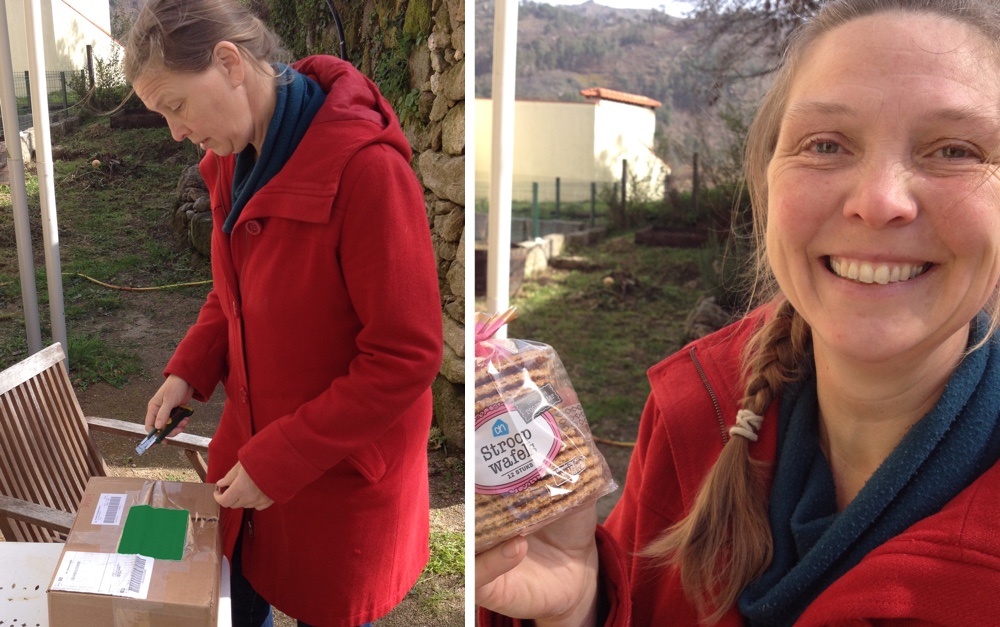 moves of delivery guys
We have been living here for almost 4 years now and after 50-something deliveries, we know more or less how to entice the deliverers to come to our house. Apart from the 'regular' post, it usually goes like this:
We receive an email from the store stating that the order is on its way. With a bit of luck, it tells me which delivery service is coming and it contains a tracking code to know the whereabouts of my parcel. I keep my eagle eye on it…
The morning that the parcel is 'in transit', leaving the distribution centre, I know that the parcel will be delivered the same day. Later, I will get a call from the deliveryman. They all check in advance if we are at home because they don't want to drive for nothing on those small country roads.

For a new immigrant, this is terrible, because the deliverymen usually call while they are driving and they always talk very fast: in short, you can't understand a word of it!
In the beginning, I tried to have a normal conversation (with sweat on my brow) but it never got me anywhere. Sometimes resulting in me running to the neighbour to let him explain the deliveryman where we lived. Or that the deliveryman said that he had left the parcel somewhere. The latter was particularly bad because it made me doubt whether I had understood him correctly. Did he mean that restaurant or that other one, or that shop or that other one?
Not to mention the discussions Nuno and I were having after these phone calls. "But what exactly did he say? And why didn't you let him drive there?" Aaaargggghhhhh.
It's all because we don't have a proper address with a street name and a house number. Our address is 'village V', and you can't find it on Google. And even if you do know where to find it, you don't know which house is ours. That is why the deliverymen call in advance to ask if we are at home. And then they expect me to explain exactly how to drive. And if, halfway through, they forget, they can call 5 more times. It's hell if you don't speak Portuguese well…

But one day, when I was able to phone a little easier in Portuguese, I came up with a trick. When a delivery person calls me, I usually say 2 sentences: "Yes, we are home." And, "Can I send a link on Google Maps of our location?". Even if I don't understand a word of what they say to me, they are usually very happy with my offer. I send an SMS with the link to our location and usually, the deliveryman will arrive a little later!
Fácil – Easy!
Euphemisms of delivery companies
But it's not always easy. It often happens that the deliveryman, just as persistently as me, wants to get his way. And so he takes it to the nearest pick-up point. Often when you go there to pick it up, it turns out there was a reason he didn't want to come to your house. For example, that the packaging is completely broken. Or worse, that things have disappeared from the package. That doesn't need to be the deliveryman's fault, he probably got it like that from the distribution centre. And I can understand it made him think " I'm not going there".

We have gradually become familiar with deliverers idiom to disguise shipping problems.
A list:
Message parcel service:
Meaning:
Deliveryman: Can I leave it at shop/restaurant X for you?
I don't want to come to you because the package is damaged
In track-and-trace overview: An accident has happened.
The package is damaged, we are re-sealing it
By mail/track-and-trace:
Your package has an unknown delivery address
The package is so badly damaged that your address can no longer be read
By post/track and trace:
The route to your delivery address was delayed
Your package is damaged and we are not sure if it is still complete, so we do not dare to deliver it
By mail/track-and-trace:
The package could not be delivered as no one was at home.
(While we were in quarantine at home)
On the way, your parcel has been in a puddle of rain and now it's all falling apart, so we don't dare deliver it.
Deliveryman:
Your parish does not exist.
Your package has accidentally ended up in a distribution center on the other side of the country and here we don't know your parish.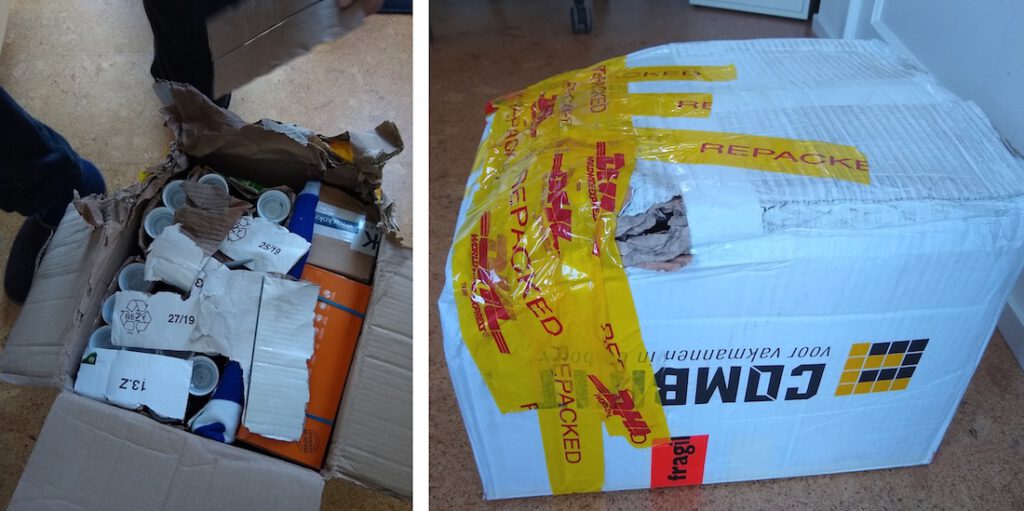 This also helps to get your package properly delivered: When you place the order, you can often enter additional information for the delivery. I always type a short route description to our house there. And always include your phone number!

The other thing I can say is that sometimes you have to be persistent. If your package gets stuck somewhere, try to find out where the nearest distribution center is and send them an email. Or report it to the seller, who can write an angry email to the delivery company. In these e-mails, I am less polite and more demanding than I write in Dutch. In Portugal, nobody is offended by the imperative when you're annoyed.

I'm always nice to the deliverymen who come here, throughout. If it was complicated for them, I tip them.
They really have to work hard for their money. I know because for a short time, long ago, I also delivered packages for the Dutch mail. (It was hell…)
Useful words for deliveries in Portugal
| | |
| --- | --- |
| o envio | the shipment/delivery |
| entregar | to deliver |
| ponto de entrega | delivery point |
| morada | address |
| o estado do seu envio | the status of your shipment |
| a encomenda | the order |
| o transportador | the carrier/delivery person |
| o entregador | the courier/delivery person |
| seguir | to follow/to trace |
| Sim, estamos em casa | Yes, we are at home |
| Sim, ficamos em casa | Yes, we stay at home |
| Posso mandar um link em Google Maps da nossa localização? | Can I send a link on Google Maps of our location? |
July 6, 2021