This afternoon we've received the approval to start the construction of our shed-de-luxe!

Last May we already visited the camera (câmera municipal, the town hall) to ask what we could build permit-free on our site. In Portugal it can be different for each municipality and it depends on the destination of the property and in which zone it is located. And even if you build permit-free, you need to inform the camera before you start the construction works.
Building regulations in Portugal
The building regulations are laid down by each municipality in the RMUE, which you can often download from the website of the camera. We had done that and together with the information we had received in May, we knew that we could build an outbuilding of up to 30 m2 and 3 m high without a permit in our municipality.

Based on that we made a design for a shed-de-luxe of 29.95 m2 and 2.95 m high. In which a bed, a few wardrobes, a kitchen, a bathroom, a couch and two tables fit. During the major renovation of the big old house, we do not want to live in it. Moreover, electricity, running water and sewage have never been in the house. So it is not really comfortable for camping.
The design proces
We designed the shed ourselves. In the beginning we considered whether we should buy a caravan or a mobile home. But 3 years in a caravan? No, thank you … We also looked at prefab kits, but that rapidly passed because they were -1- very expensive -2- just casco and -3- never had the ideal layout for us.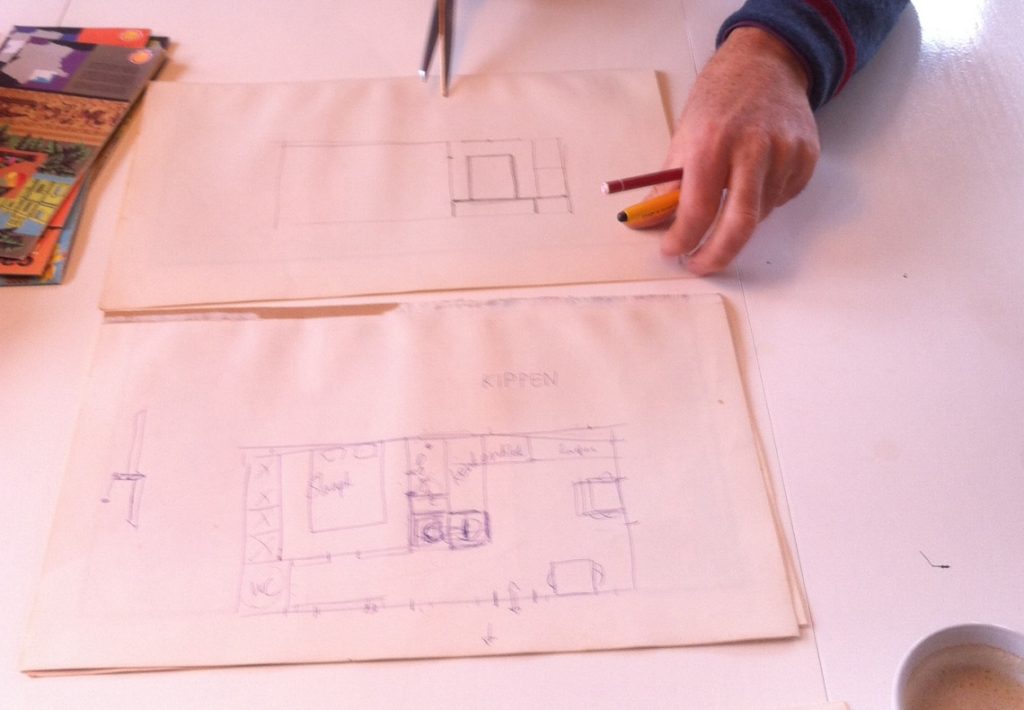 On the internet and in particular on pinterest we found beautiful examples of sheds and tiny houses. We copied how you could organize space as efficiently as possible and because we did not want a loft bed (not suitable for two giants), we eventually came up with an L-shape. As a result, the walking space is limited and the water pipes and drainage could easily be designed close to each other.

For the building technique we were mainly inspired by the ideas of Walter Segal. A British architect who developed a house design in the 70s that could easily be built by DIY-ers.
Thanks to his theories, we decided to work with timber frame and to place the shed on poles. For the cladding we chose a local product: slate. Which is extracted about 40 km from here and has one big advantage; it does not require maintenance. When you know that back in Holland we had been painting two wooden sheds and a wooden cladding around the house several times, you understand that we are happy with no maintenance.

When we had more or less figured out the layout of our design, we started looking for free or cheap 2nd hand doors and windows. The biggest hit that we made was a panorama window of 185×250 cm. (And 500kg) This window really finished our design!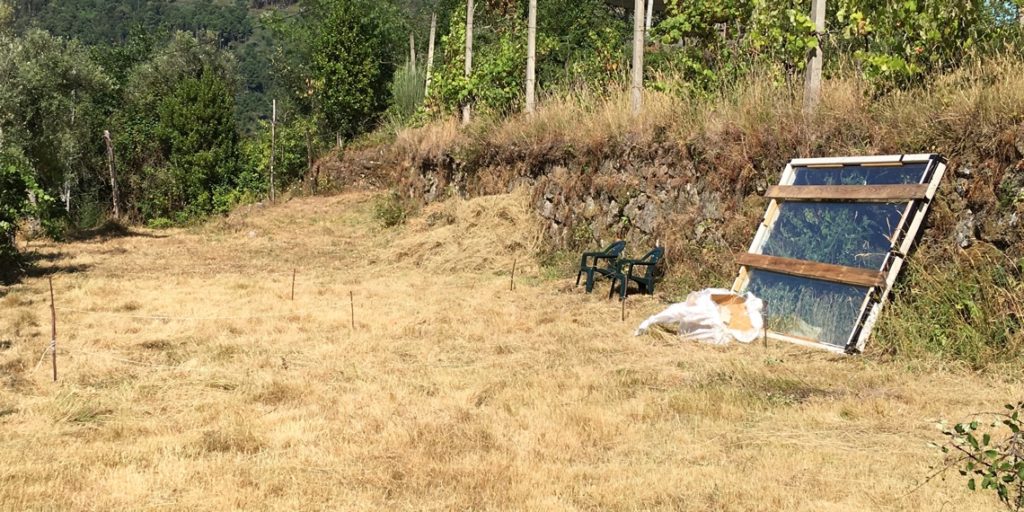 In sketchup, a free 3D design program, I made nice 3D impressions of our design. When we went to the camera to announce the start of our works, two weeks ago, we handed these over. Unfortunately we were told that the construction could not start yet because it was not certain that we were really allowed to build this.
Approval for building
Therefore we had an appointment today with the architect of the municipality. Fortunately, it turned out to be a nice helpful man, who also spoke some English. The point was, they had to check if our shed wasn't going to be near the 'rego'. Regos are irrigation canals that are everywhere in the countryside between the river streams and the farmlands of the village. But our shed does not come even near a rego, so we can start building!
Useful Portuguese words
a shed
um abrigo
the town hall
a câmera municipal
square meter
metro quadrado
height
altura
length
comprimento
width
largura
the footprint
a área
the building/the buildings
a edificação/ as edificações
a building permit
uma licença de construção
building regulations
RMUE (Regulamento Municipal da
Urbanização e da Edificação)
announcement of building works
comunicação de início dos trabalhos
a ditch
um rego